Risotto with dehydrated vegetables
You can call this risotto sustainable, as you can use all the vegetables (including skin and stems) that you don't know what to do with, in this recipe. In my opinion, there are two ways of utilizing vegetables that you otherwise don't use: make a vegetable stock or dehydrate them. You can use both the stock and the dehydrated veggies to make this comforting, flavourful risotto.
I dehydrate my vegetables using a dehydrator. It takes approximately 6 hours (I set the temperature to 55 degrees Celsius). Alternatively, you can try to dehydrate them in your oven at the lowest possible temperature. And, of course, you can also simply use fresh vegetables in this risotto recipe.
If you don't know how to make vegetable stock, read the preparation method here.
Keep the dehydrated vegetables up to a week in an airtight container in the fridge.
Nutrition:
486 kcal
14.5 g fat
70.5 g carbs
9 g protein
0.5 g fibre
Ingredients
1 tbsp butter or vegan sub.
1 tbsp olive oil
1 small onion
2 cloves of garlic
150 g risotto rice (for example arborio)
50 ml white wine (optional)
+/-600 ml vegetable stock
A handful of dehydrated vegetables (I love zucchini, bel-peppers, tomatoes, parsnip, carrots...)
Grated parmigiano or pecorino or plant-based cheese to taste
Salt and pepper to taste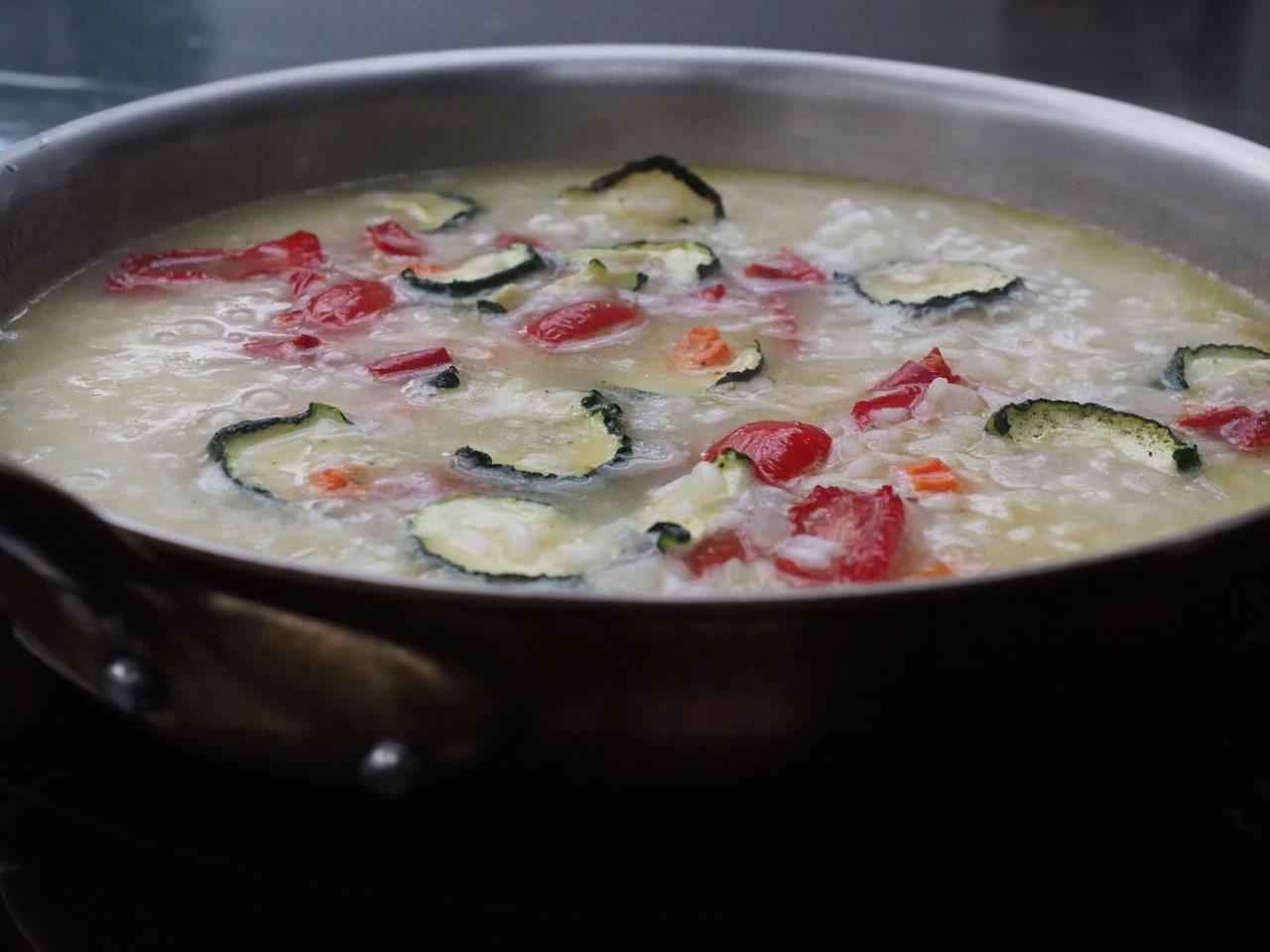 Method
Bring the vegetable stock to a boil and keep warm.
Peel and finely chop the onion and garlic. Melt the butter with the oil in a risotto pan. Sauté the onion and garlic over medium heat until translucent, +/- 3 minutes.
Add the rice and cook for another minute or two, constantly stirring, making sure that the rice is covered with oil and butter.
Add the wine (you can skip this step).
When the wine has evaporated, add two ladles of hot stock and let the risotto simmer over low heat. Once the moisture is almost absorbed by the rice, add another ladle. Repeat this all the time.
After about ten minutes add the dehydrated vegetables. Add some salt and stir the vegetables well into the risotto.
Risotto needs 22-25 minutes of cooking time in total, depending on how al dente you want it.
When the risotto is done to your taste, add some grated cheese, stir and taste. Add more cheese/salt/pepper if needed.
Divide the risotto among the serving plates. Serve topped with some extra grated cheese.