Vegan paella
The ingredient list can seem a bit long for this dish but don't get discouraged. The first eight ingredients are needed for making vegetable stock. If you happen to have vegetable stock already available, skip these ingredients and the first step of the preparation process.
This vegan paella is a fabulous meal. The most time consuming part of this recipe is dicing the vegetables (I like them diced in perfect small pieces). The other steps of the process are easy.
If possible, use bomba rice (sometimes it is sold under the geographic indication Calasparra), it is the sort of rice typically used for paella. Alternatively, use arborio rice (you might need less vegetable stock if using the arborio variety).
This vegan paella is a great dish when you are having people over. Feel free to add vegan "meat" or fresh soy beans for extra protein.
Nutrition:
302 kcal
8 g fat
50 g carbs
7 g protein
Ingredients
2 garlic cloves
1 onion
1 carrot
1-2 celery stalks
½ bell pepper
1 tbsp oil
1 l water
1 tsp salt
150 g oyster mushrooms or king trumpet mushrooms
One medium sweet potato
2 garlic cloves
1 small yellow onion
½ red bell pepper
1 medium carrot
200 g bomba rice
2 tsp powdered sweet paprika
1 tsp smoked paprika
1/2 tsp saffron
1 large ripe tomato
A/N olive oil
Lemon wedges
Chopped parsley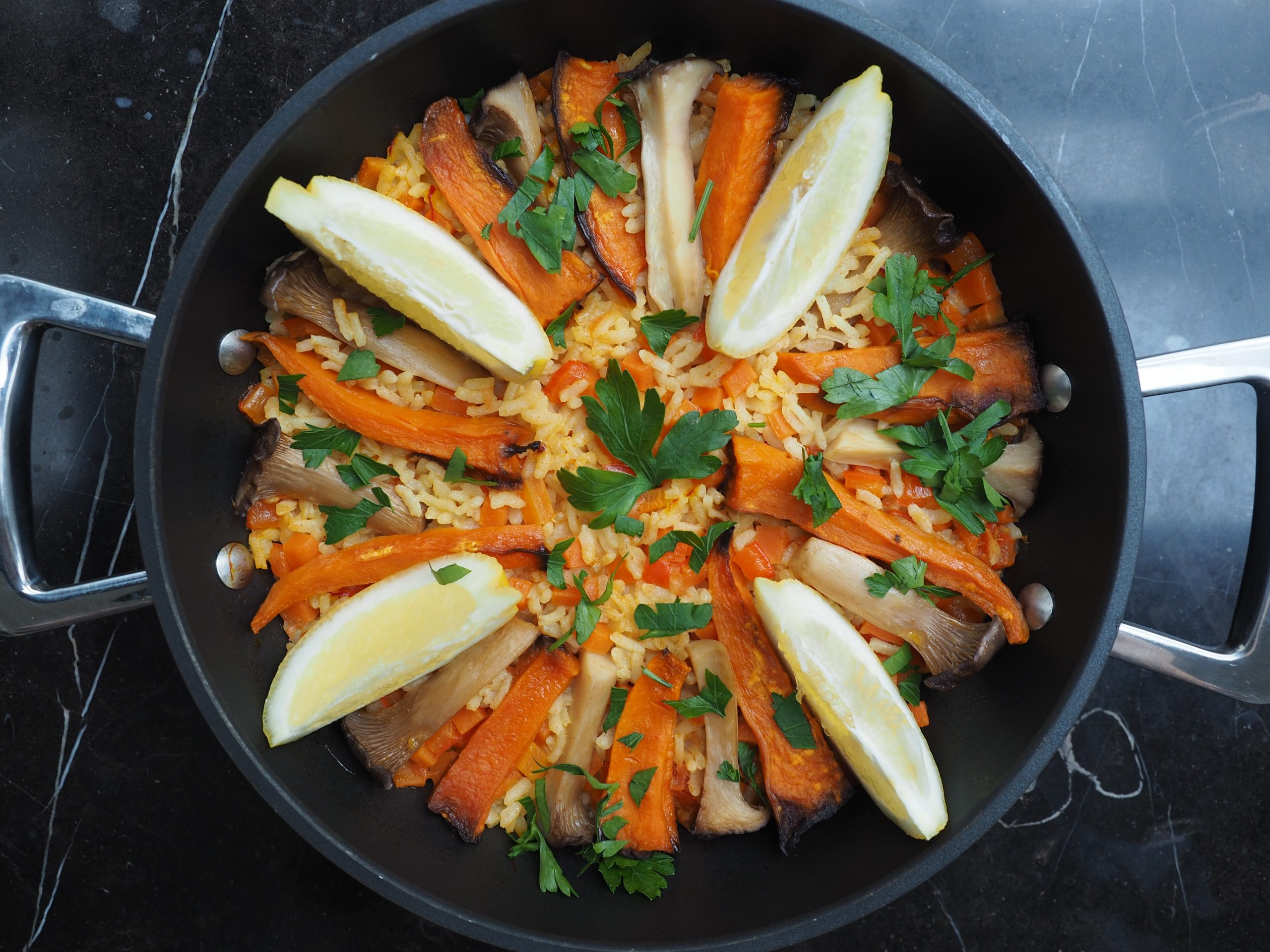 Method
Start with preparing the vegetable stock. Dice all the vegetables. In a stock pot sauté garlic, onion, carrot, celery and bell pepper in oil over low to medium heat until slightly tender. Add water and bring to boiling point. Add salt, reduce heat and simmer for approximately 20 minutes. Strain through a fine mesh strainer and keep hot for the cooking of the paella.
Now let's start with the paella. Wash and peel the sweet potato. Cut it in obliques. Place in an oven dish, drizzle with oil and salt and bake at 180 degrees till almost done, approximately 35 minutes.
Clean the mushrooms, cut them lengthwise if they are large, or leave them whole. Place in an oven dish, drizzle with oil and salt and bake at 180 degrees for 15 minutes.
Finely dice the garlic, onion, carrot and bell pepper. Heat oil in a paella pan or a heavy bottom saucepan over medium high heat. Sauté the garlic, onion, pepper and carrot for about 5 minutes.
Add the rice to the pan and sauté with the veggies for two minutes. Add the spices. Pour the hot vegetable stock over the rice.
Cut the tomato in half and grate the tomato flesh over the rice. Carefully stir.
Lay the sweet potatoes and mushrooms around the rice. Continue cooking the rice for 15 minutes (no lid yet).
Turn the heat to medium low and cover the pan with a lid. Cook for an additional 5 minutes.
Turn the heat off and allow the paella to rest for 5 minutes.
Decorate with lemon wedges and chopped parsley and serve.