Pumpkin risotto
This pumpkin risotto is a perfect winter recipe. Its bright colour cheers even the greyest days up. I also add a pinch of saffron strands, but you can skip them, if saffron is not available. The saffron adds both the colour and the aroma to the risotto.
This risotto might seem like a lot of work, but the whole process is actually quite easy.
If you don't know how to make vegetable stock, read the preparation method here.
By the way, did you know that pumpkins are very nutritious? If you are curious about health benefits of pumpkins, read this article.
Nutrition:
385 kcal
14.5 g fat
53.3 g carbs
11.2 g protein
2.5 g fibre
Ingredients
2 tbsp butter
1 tbsp + a little bit more olive oil
1 small yellow onion
2-4 cloves of garlic
200 g risotto rice (for example arborio)
50-75 ml white wine (optional)
A generous pinch of saffron strands
50 ml hot water
+/-750 ml vegetable stock
A small kabocha or ambercup pumpkin
50 g pumpkin seeds
Grated parmigiano or pecorino or vegan alternative to taste
Salt and pepper to taste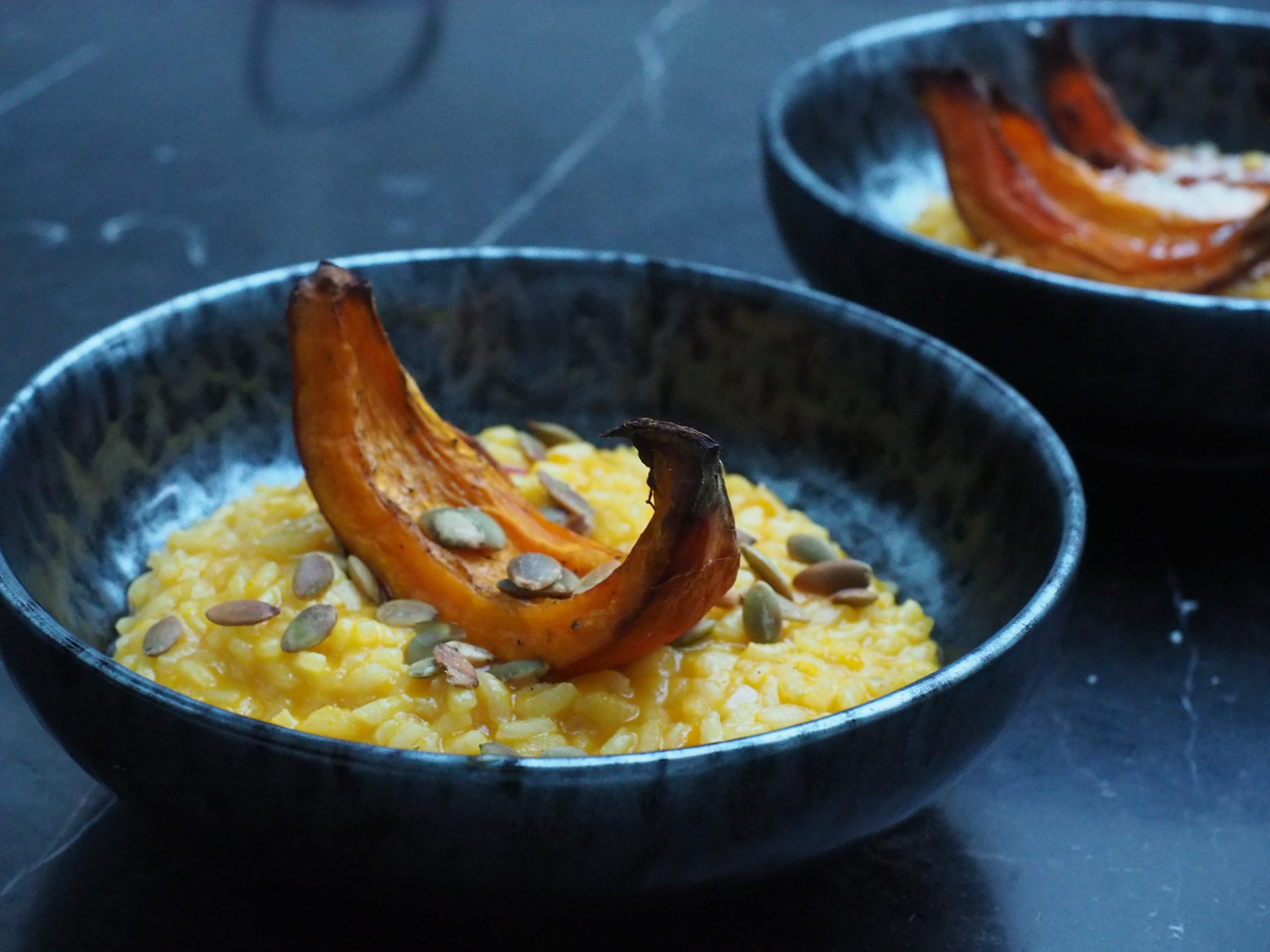 Method
Preheat your oven to 180 degrees Celsius.
Rinse and peel the pumpkin. Cut it in two and deseed. Tightly cover one half of the pumpkin in aluminium foil and place it in the preheated oven. Cut the other half of the pumpkin into 4 equal segments, lengthwise. Brush with olive oil and salt and put in the oven too. Set the timer for 45 minutes.
I usually start cooking the risotto when the pumpkin is almost done. Bring the vegetable stock to a boil and keep warm. Peel and finely chop the onion and garlic. Melt the butter with 1 tbsp oil in a risotto pan. Sauté the onion and garlic over medium heat until translucent, 3-4 minutes.
Add the rice and cook for another minute or two, stirring.
Add the wine (you can skip this step).
When the wine has evaporated, add 2-3 ladles of hot stock and let the risotto simmer over low heat. Once the moisture is almost absorbed by the rice, add another ladle. Repeat this all the time.
Meanwhile, boil water and pour 50 ml over saffron. Let is stand for a few minutes and add to the risotto pan.
When the risotto is done (this will take somewhere between 18-25 minutes), add some grated cheese, stir and taste. Add more cheese/salt/pepper if needed.
Divide the risotto among the serving plates. Serve topped with a segment of baked pumpkin, pumpkin seeds and extra grated cheese.