Green risotto (budget-friendly)
I might have already mentioned: I love risotto. I have quite some risotto's (vegetarian/vegan) in my repertoire, which is broadening all the time.
At the moment, I am obsessed with budget-friendly cooking. The cost of this green risotto is no more than € 3 per person. It is a very comforting meal which doesn't need any accompaniment. If you are well prepared (read: if you always have broad beans, peas and vegetable stock in the freezer, spinach in the fridge and risotto rice in the kitchen cupboard), you can always make this risotto, you don't have to do any shopping.
This risotto has a vibrant green colour due to the spinach. However, when the risotto cools down, the colour will fade. So better consume it when still hot.
For risotto we need of course vegetable stock. If you don't know how to make vegetable stock, read the preparation method here.
Nutrition:
516 kcal
16.8 g fat
73.7 g carbs
17.3 g protein
7.3 g fibre
Ingredients
1 tbsp butter
1 tbsp olive oil
1 small onion
2 cloves of garlic
150 g risotto rice (for example arborio)
50 ml white wine (optional)
+/-600 ml vegetable stock
100 g frozen broad beans (a.k.a. fava beans)
100 g frozen green peas
100 g fresh spinach
Grated parmesan or pecorino or plant-based cheese to taste
Salt and pepper to taste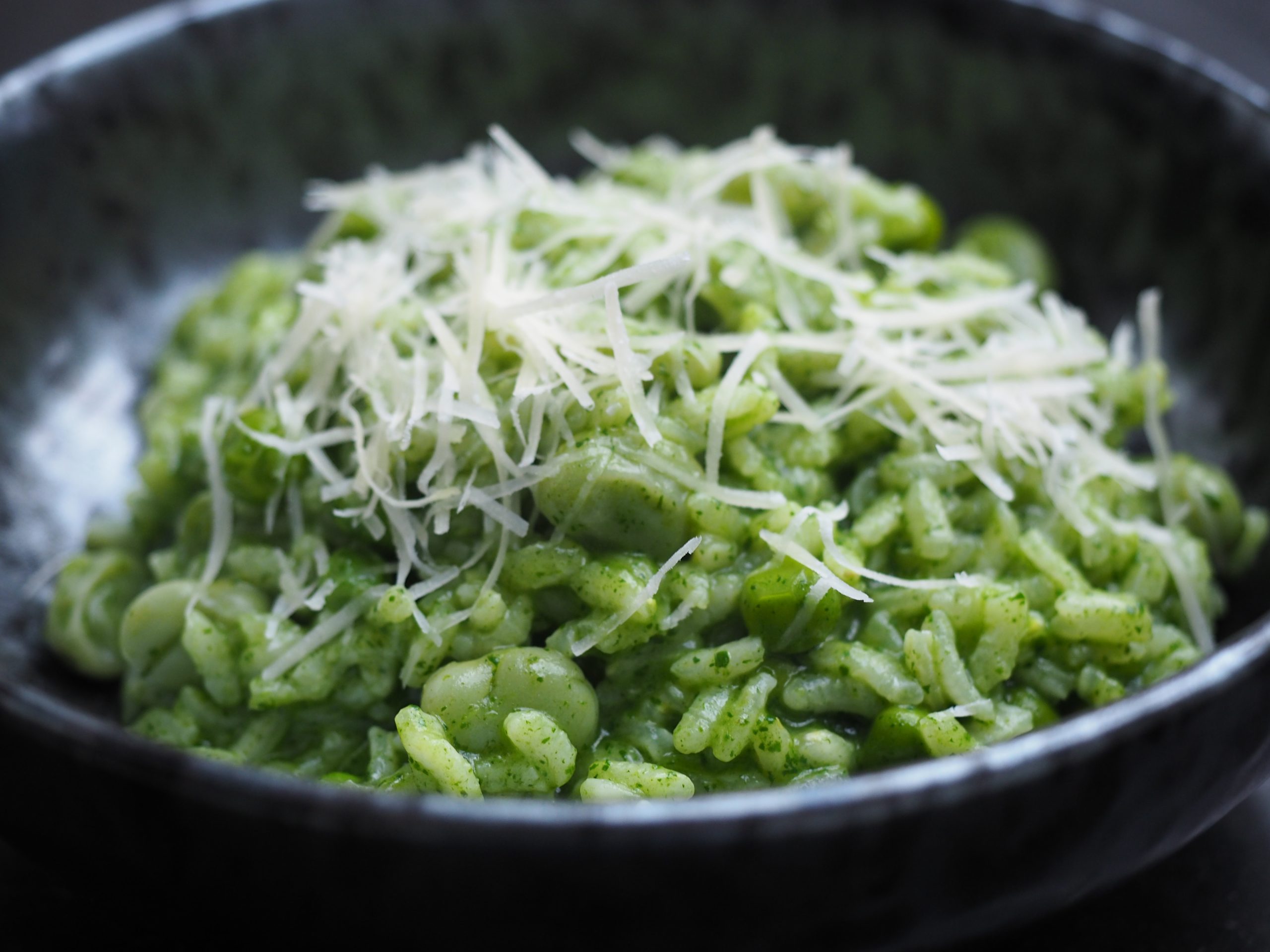 Method
Bring the vegetable stock to a boil and keep warm.
Peel and chop the onion and garlic. Melt the butter with the oil in a risotto pan. Sauté the onion and garlic over medium heat until translucent, 3-5 minutes.
Add the rice and cook for another minute or two.
Add the wine (you can skip this step).
When the wine has evaporated, add 2-3 ladles of hot stock and let the risotto simmer over low heat. Once the moisture is almost absorbed by the rice, add another ladle. Repeat this all the time.
After about ten minutes add frozen fava beans and peas. Add some salt and stir well into the risotto. Because the beans and peas are frozen, the temperature of the risotto will drop. So, you have to bring it back to the point of simmering by raising the temperature temporarily.
Meanwhile, boil water. Place the spinach into a colander and pour boiled water over the spinach, so that it wilts. Blend the spinach with a few tablespoons of hot stock into a green "smoothie".
Risotto is ready in 22-25 minutes, depending on how al dente you want it. Just a minute or two before it is ready, stir in the spinach.
When the green risotto is cooked, add some cheese, mix and taste. Add more cheese/salt/pepper if needed.
Divide the green risotto among the serving plates. Serve topped with some grated cheese.