Socca with cottage cheese and baked veggies
This chickpea flour savoury pancake (known as "socca"" in France and "farinata" in Italian) is served in many Mediterranean countries. Socca is very easy to make from a scratch. You can vary with the toppings a lot. Basically, you can use pretty much anything as a filling for your pancake. I like combination of tahini and baked vegetables. Cottage cheese is a good source of extra high-quality protein and calcium here, but if you prefer it all vegan, you can skip it altogether of swap for tofu.
Nutrition:
571 kcal
29.1 fat
38.5 carbs
35.4 protein
Ingredients
50 g chickpea flour
100 ml water
Juice of ¼ lemon
A pinch of salt
¼ tsp baking soda
+/= 200 g vegetables of your choice (I used yellow squash, bell-pepper, fennel and yellow onion)
1 tbsp + 1 tsp oil
1 tbsp tahini (optional)
100 g cottage cheese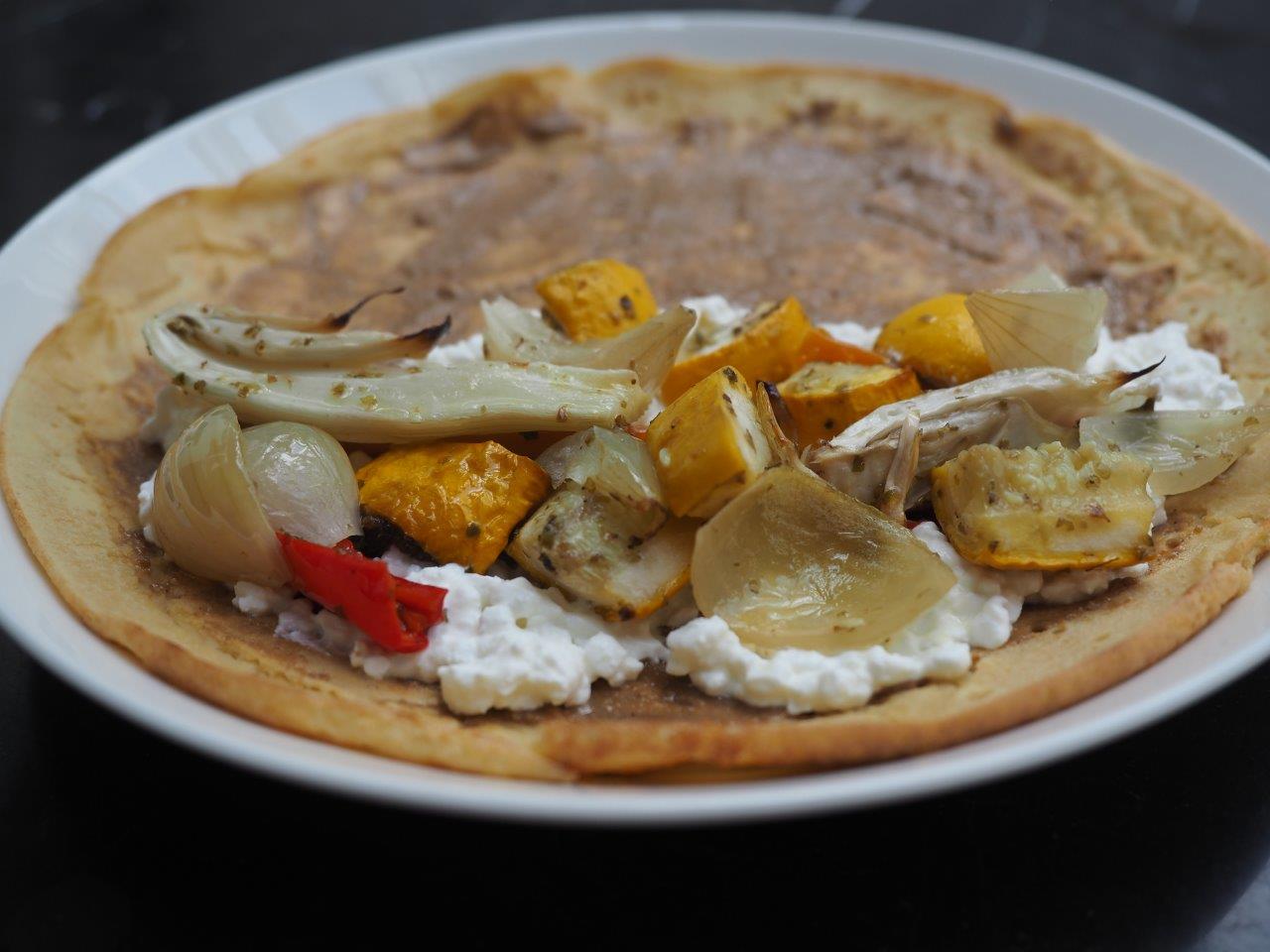 Method
For the baked veggies, preheat oven to 180 degrees Celsius. Wash, dry and cut your vegetables of choice. Add oil and salt, stir, place in an oven-proof dish and bake till done (time depends on the type of the vegetables, on average it will take between 30-45 minutes).
Meanwhile, for the socca, in a large bowl, whisk together chickpea flour, lemon juice, soda, salt and water.
Heat a pancake pan or a cast iron skillet over medium-high heat. Add one tsp of oil to the pan and swirl. Pour all the batter into the pan, turning the pan to spread the batter all along the bottom of the pan. The batter will start cooking instantly so it is important to work quickly to spread. Lower the heat to medium to allow the bottom of the socca to cook without scorching. Once the bottom is cooked (the edges will start to peel from the bottom of the pan and socca will turn golden brown), flip the socca and finish cooking the other side.
Transfer the socca to the serving plate. Spread tahini (if using) over the whole surface.
Spread cottage cheese over the half of the socca closest to you.
Spread the veggies over the cottage cheese.
Roll tightly, cut in two and enjoy.