Raw vegan pink crackers
These pink crackers are vegan, raw and naturally gluten-free. They are nutritionally dense as they are predominantly made from nuts and seeds. They make a great alternative for commercial crackers. I make them quite often as my three-year old daughter really likes them a lot. They pair well with all imaginable toppings, from hummus to cheese. But they are also delicious eaten on their own.
I prefer to make them in the dehydrator, as they will keep their bright pink colour. Alternatively, you can make them in the oven. The colour will be less bright, but the bite will be crunchier. If you actually want to avoid the pink colour for any reason, use water instead of beetroot juice.
Nutrition:
33 kcal
2.4 g fat
1.7 g carbs
1.2 g protein
0.6 g fibre
Ingredients
30 g almond meal
20 g oat flour or oatmeal of any type
15 g sunflower seeds
15 g pine nuts
10 g flax seed
A small pinch of salt
20 ml beetroot juice (self-made or store-bought)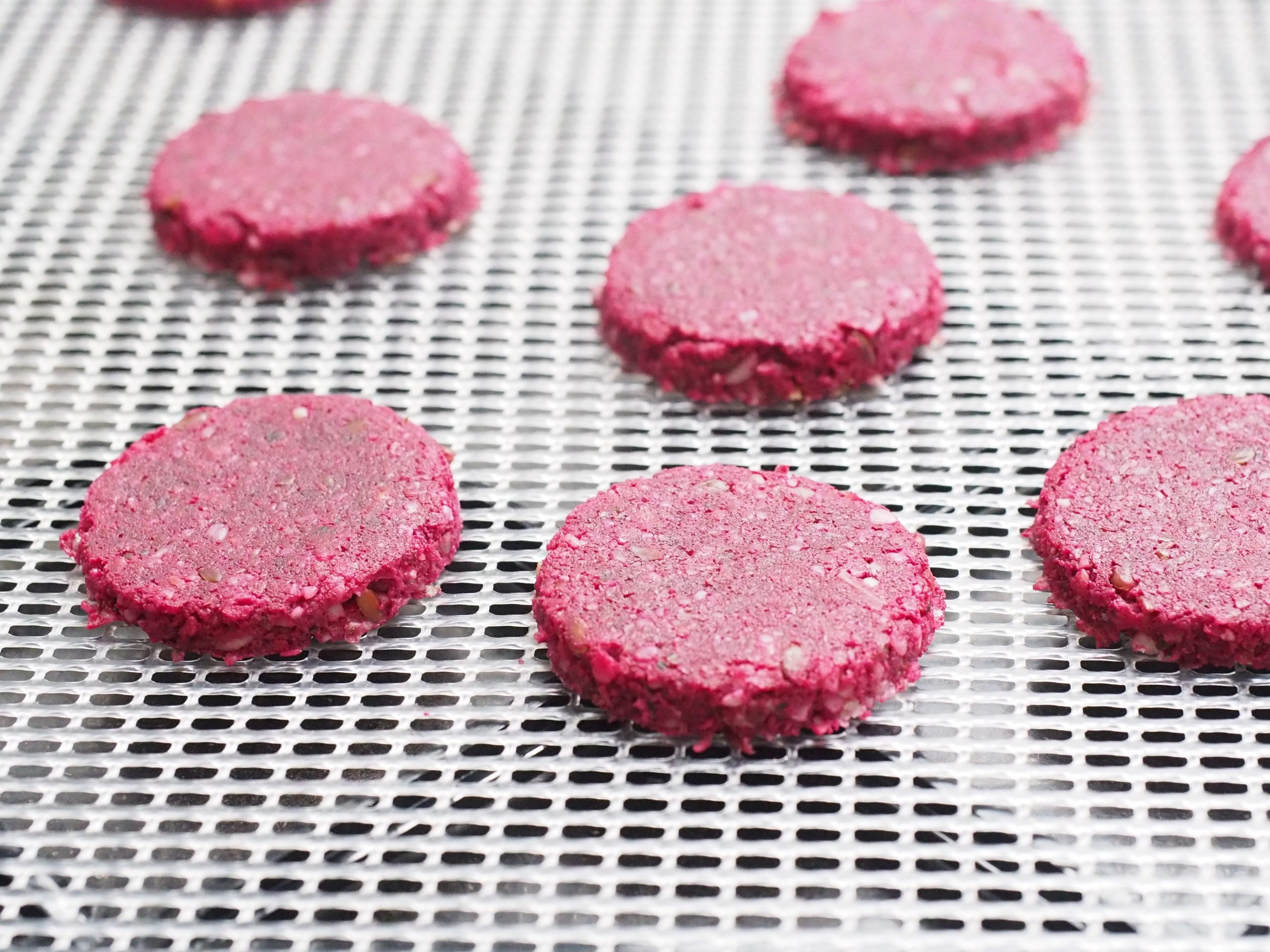 Method
First, grind all the ingredients that are not processed yet into flour: sunflower seeds, pine nuts, oatmeal, flax seed. If you don't have a grinder cup on your food processor, just use the cup that you normally use for processing nuts. It is OK for the flour to not be very refined, just try to avoid large pieces.
Now mix all the dry ingredients. Add the beetroot juice and stir really well. Wrap the dough in plastic foil and transfer to the refrigerator to allow the flour to fully hydrate, approximately 1 hour.
Roll out dough between two parchments to 0.3 cm thickness. Cut into preferred shapes with a pizza knife, a sharp knife or using a cookie cutter.
Arrange the crackers on the dehydrator trays and dehydrate for 6 hours at 55 degrees Celsius. If you don't have a dehydrator, use your oven. Preheat it to 160 degrees Celsius, put the crackers arranged on a parchment on the oven rack and bake for 12-15 minutes. Let cool completely before serving.