Kitchari (a.k.a. khichdi)
In India kitchari is called poor people food because it only contains the most basic cheap ingredients. From the Ayurvedic perspective, kitchari is the perfect meal, because it fits people with all constitution types. And from my perspective as a dietitian, kitchari is really a supreme nutritious meal. Uniting rice and lentils, it is a source of complete protein. Furthermore, kitchari is a very comforting meal, full of aroma's and naturally slightly sweet.
Nutrition:
463 kcal
7.9 g fat
79.9 g carbs
15.7 g protein
10.5 g fibre
Ingredients
1/2 cup red or yellow lentils, soaked for a few hours and well-rinsed
1/2 cup basmati rice (I normally use wholegrain)
2 cups water
1 tbsp coconut oil or ghee
1 small yellow onion
3-4 cloves garlic
A 1 cm piece of ginger (optional)
1 small carrot
1 small, sweet potato (sub pumpkin)
Garam masala (see step one)
1/2 tsp turmeric
Salt to taste (I use approximately 2/3 tsp for this quantity of the ingredients)
Fresh cilantro to serve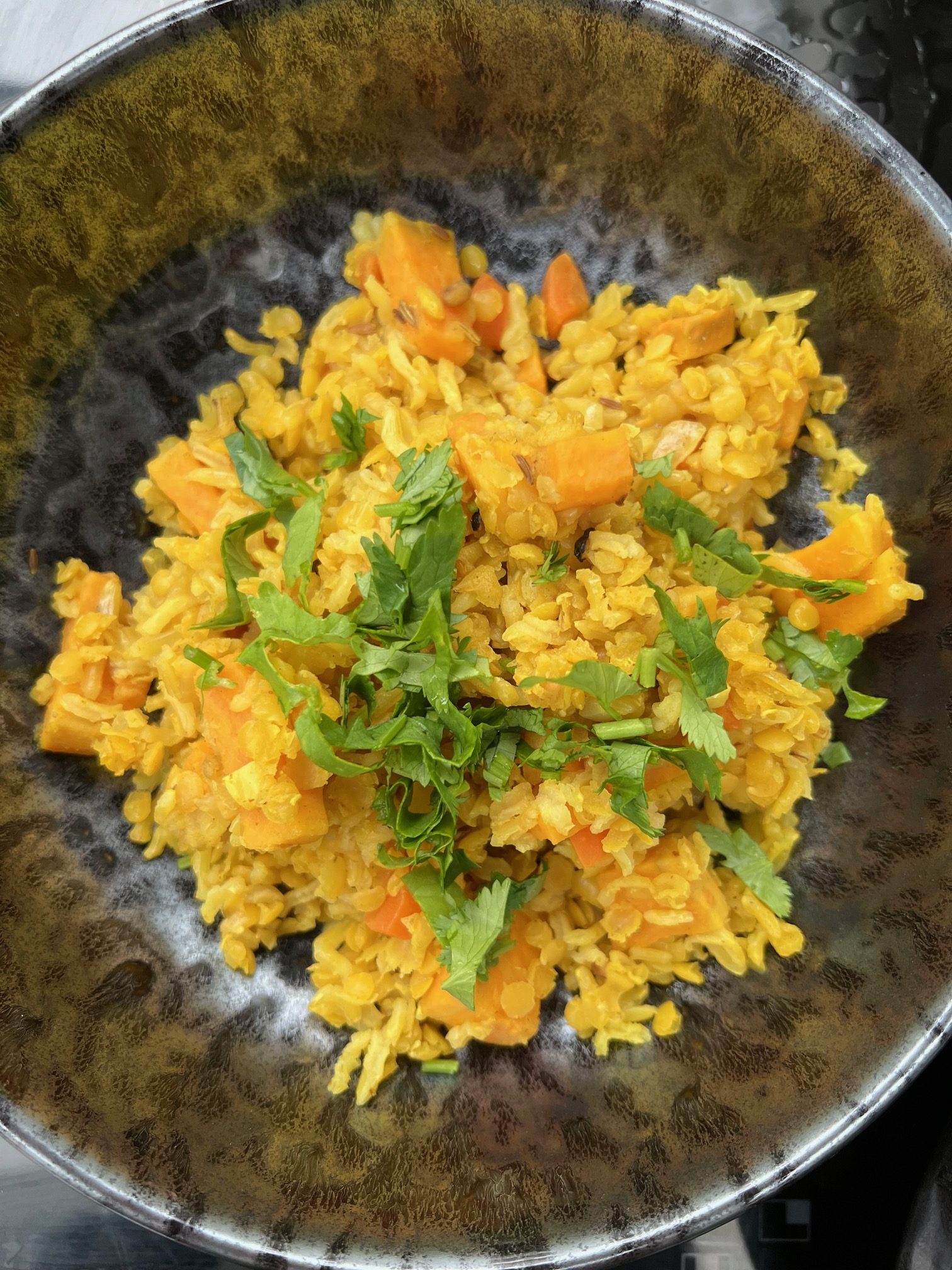 Method
You can either use your favourite garam masala brand for this recipe or make your own. I always chose the latter. For kitchari, I usually make masala using the following ingredients: mustard seeds, cumin seeds, coriander seeds, fennel seeds (1 tsp each), cloves, cardamom, fenugreek, nutmeg (1/4 tsp each) and 2 dried small chili peppers. I grind the spices using an old-fashion mortar and pestle. You can store garam masala in an airtight container for months. For this particular recipe I would use approximately 1/3 of the masala quantity.
Chop onion, garlic and ginger. Cut carrot and sweet potato into small cubes.
Heat coconut oil (ghee) in a large saucepan and gently cook the onion for a few minutes.
Add the ginger, garlic, carrot and sweet potatoes and cook for another couple of minutes.
Increase the heat and add all the spices. Cook for a minute stirring constantly.
Add the lentils together with water and bring to a boil.
Add salt and turmeric powder. Cover the pan with a lid and cook on low heat for 35 minutes.
For the best results, let stand on the kitchen stove for another 30 minutes before serving.
Serve kitchari topped with chopped cilantro.