Green buckwheat crepes
I make these green buckwheat crepes nearly every week. I make a whole bunch for my family, and we eat them 2-3 days in a row with different fillings. If you are alone, halve the amount of ingredients to make 4 crepes (less is hardly possible). Keep the green crepes in the fridge. You can skip the spinach altogether if you are not a fan of the green colour. Skipping the spinach does not affect the amount of the other ingredients, but it will affect the number of crepes (you get 6 instead of 8).
Serve them with the toppings of your choice. Some ideas:
• Hummus and veggies/mushrooms,
• Scrambled eggs or scrambled tofu with avocado and mushrooms (my fav!),
• Cottage cheese and veggies,
• Peanut butter or nut butter and jam (for sweet mornings),
• Ricotta with fruit,
• Just cheese (my daughter's fav). Just heat the crepe topped with your favourite cheese until the cheese starts to melt. Fold the crepe and enjoy it while it is warm.
The image here features green buckwheat crepes with scrambled tofu, mushrooms and avocado.
Nutrition:
92 kcal
2.2 fat
13.5 carbs
2.8 protein
Ingredients
1 cup buckwheat flour
2 cups unsweetened almond milk
2 eggs
100 g fresh spinach
Salt to taste
Oil for baking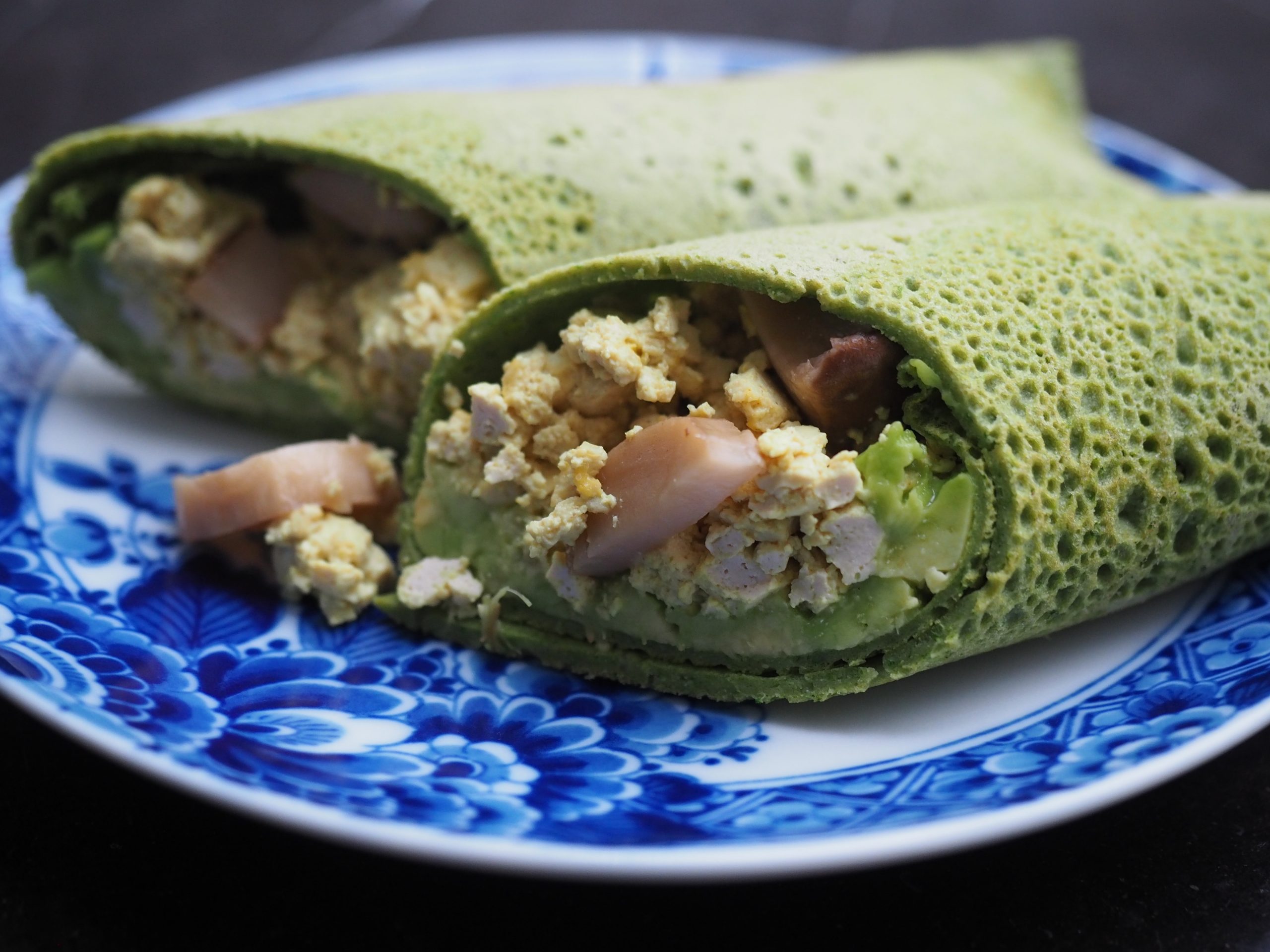 Method
Process all the ingredients but the oil in a blender until you get a smooth green butter.
Heat a pancake pan or a cast iron skillet over medium-high heat. Add one tsp of oil to the pan and swirl. Pour one ladle of the batter into the pan, turning the pan to spread the batter all along the bottom. The batter will start cooking instantly so it is important to work quickly to spread. Once the edges start peeling from the bottom of the pan, the crepe is ready. No need to cook it on the other side.
Repeat the process with the remaining butter.
Serve with the toppings of your choice.