Gluten-free Blueberry Ricotta Tart
This blueberry ricotta tart is gluten free. For the crust, we use three types of gluten-free flour: oat flour (you can make it yourself by grinding oatmeal), almond flour (in principle, you can also make it yourself by grinding blanched almonds), and either buckwheat, teff or chestnut flour. You can most likely use another type of flour as well, but I've tasted those three.
I use frozen blueberries in this recipe. I like the intense purplish colour they give the tart. Using fresh blueberries results in a different colour.
This amount of ingredients is meant for a tart with a diameter of 18 cm. I use a metallic oven pie mold with a removable bottom.
This blueberry ricotta tart is not very sweet. I actually like it for breakfast!
Nutrition:
201 kcal
10.9 g fat
22.5 g carbs
6 g protein
3 g fibre
Ingredients
1 cup oat flour
½ cup almond flour
½ cup teff, buckwheat or chestnut flour
4 tbsp agave syrup or maple syrup
4 tbsp vegetable oil
4 tbsp water
A small pinch of salt
250 g ricotta
2 eggs
2 ripe bananas
300 g fresh or frozen blueberries (pre-thaw and drain the juice)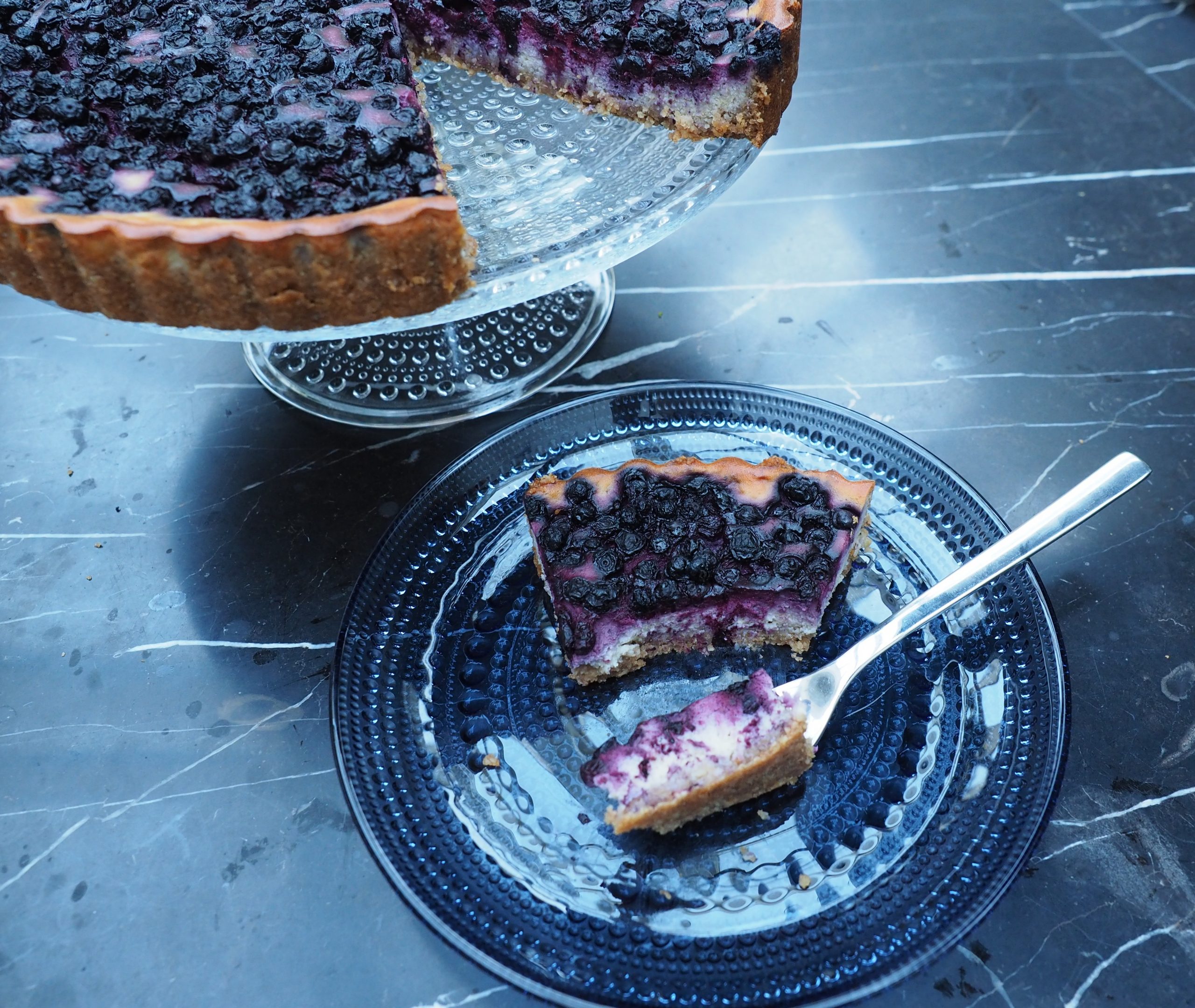 Method
Preheat the oven to 180 degrees.
Mix the flours. Add salt. Add the sweetener and the oil to the flour. Stir. Continue to stir, gradually adding water. The dough should be crumbly, but you should still manage to roll it out with a rolling pin. If this does not work, add some water. Add just one teaspoon of water at a time.
Transfer the dough to the tart dish and spread it evenly over the bottom and inner walls. Pierce with a fork in several places.
Now make the filling. Blend the ricotta, eggs, and bananas in a food processor until smooth. Pour the filling onto the cake.
Gently arrange the blueberries on top. They will sink, that's OK.
Place the tart in the preheated oven and bake for 45 minutes.
Allow the blueberry ricotta tart to cool slightly before serving.