Vegan Spring Rolls with Peanut Butter Dipping Sauce
These vegan spring rolls are great for hot summer days. Bu they are also a perfect meal when you want something light but not a salad.
For convenience and because I like it, I use fermented tofu in this recipe (I use it raw). Feto from Taifun is definitely my favourite fermented tofu. But if you can't find it, regular tofu is fine too. Just stir-fry it quickly before using.
You can vary them a little each time you make vegan spring rolls by using different ingredients. For example, tempeh, cucumber, mango, papaya and rice noodles are all delicious in spring-rolls.
Making spring rolls is a matter of practice. The more you make, the easier it gets. So don't get discouraged if it doesn't work from the very first roll. Just try again!
The provided ingredients are enough to make 16 spring-rolls, which is enough for two persons.
Nutrition:
69 kcal
2 g fat
10.6 g carbs
2.6 g protein
2.1 g fibre
Ingredients
8 round rice paper sheets
+/- 200 g fresh washed spinach
2 carrots
1 bell pepper
1 avocado
200 g fermented tofu or regular tofu
2 full tablespoons of peanut butter
2 tablespoons shoyu (soy sauce)
Juice of ½ lemon or one lime
2 teaspoons agave syrup or another liquid sweetener
½ fresh Chili pepper
2 cm fresh ginger root
Cold water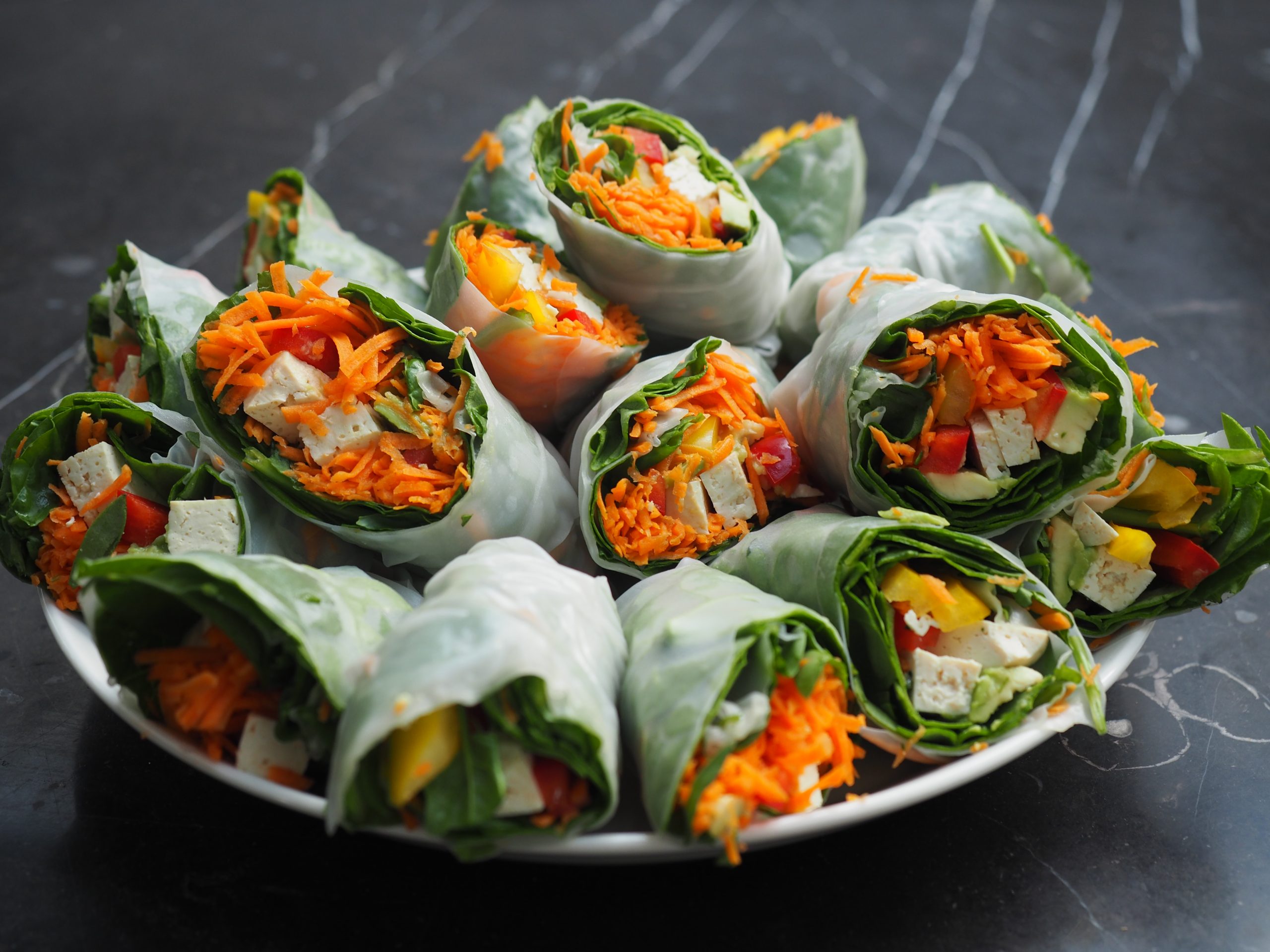 Method
Grate the carrots using a grater or mandolin.
Cut the bell pepper, avocado and tofu into long thin slices with a long sharp knife.
Divide all ingredients into eight equal parts. This is your filling.
Soak one sheet of rice paper in warm water for about 20 seconds or until soft, place on a flat clean surface. I always start with the spinach and put the rest of the ingredients on top. Put 1/8 of the filling in the middle of the paper and make a roll. You do this by first putting the paper from the left and right above the filling, and then you fold the spring roll from bottom to top.
Repeat with the rest of the ingredients.
Is the paper torn? Do not panic. Roll the failed roll, along with the rice paper and all, into an extra sheet of rice paper.
To make the peanut dip: Finely chop ginger and chilli. Then put all the ingredients plus four tablespoons of water in a blender and turn it on briefly (you can also mix everything without a blender). Is the sauce too thick? Add a little more water and turn the blender on briefly again.
Serve the spring rolls with the dipping sauce on the side.