Rösti (a.k.a. big DRANIK)
Rösti is the Swedish name of a dish popular in many parts of the world consisting mainly of grated potatoes. In my home-country it goes under the name of dranik. In the US it is known as hash brownies. In Israel these potato fritters are called latkes. In essence, rösti is a big pancake made of raw grated potatoes. But however banal it sounds; it is always a hit at my table. I guess it has just the right crispiness and provides just the right comforting sensation. I add a carrot to my rösti for the sake of nutrition, or sometimes a celery root. But exclusively using potatoes is definitely also a perfect way to go.
The provided quantity of the ingredients for this rösti recipe is approximate. It all depends on the size of your skillet and on how thick you want your rösti to be. I use a 12 cm pan for the quantity of the ingredients provided below.
Nutrition:
150 kcal
3 g fat
37 g carbs
3.5 g protein
3 g fibre
Ingredients
+/- 300 g potatoes
+/- 100 g carrot
Salt and black pepper to taste
Vegetable oil A/N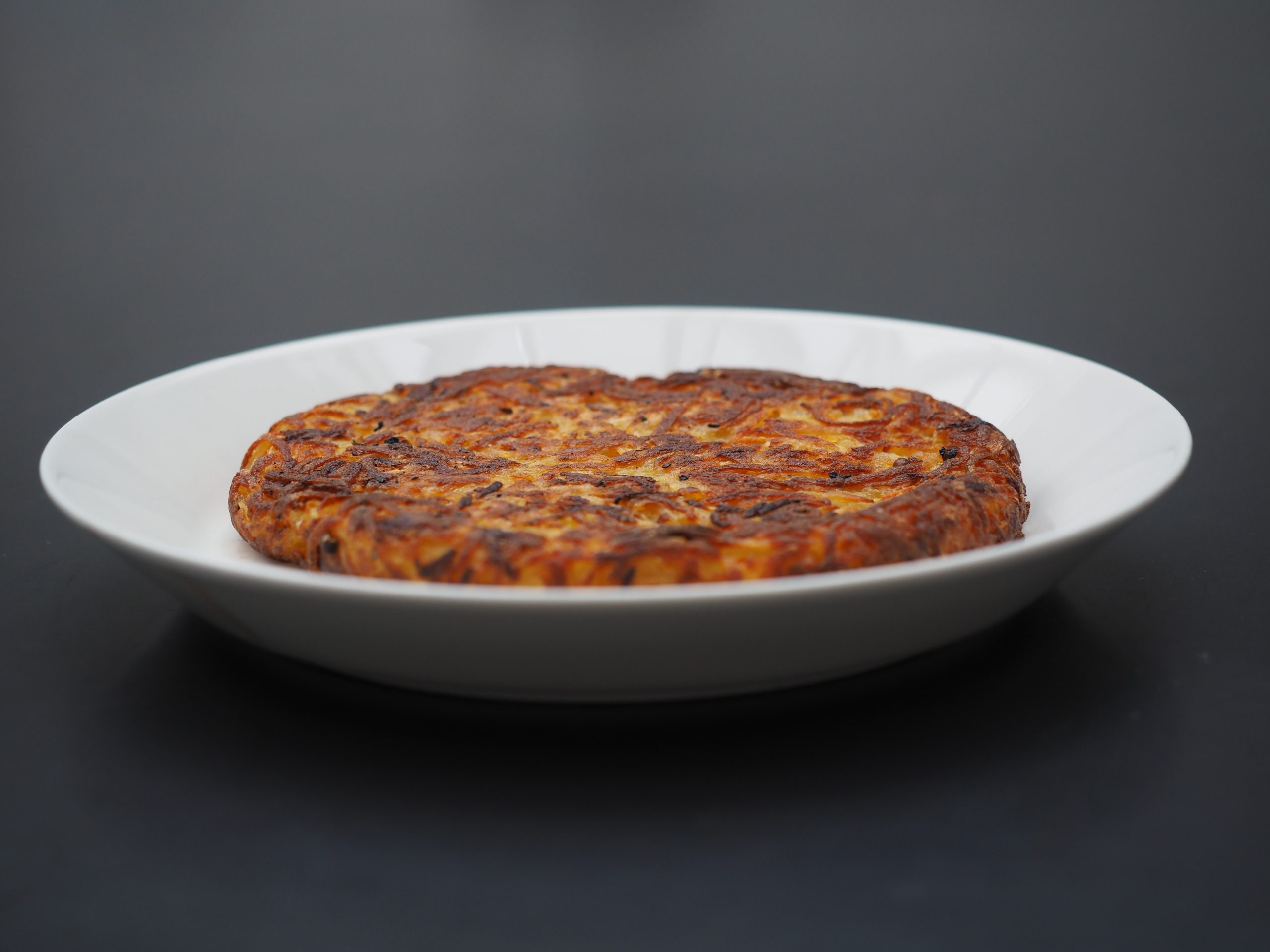 Method
Preheat the oven to 180C.
Wash and peel the potatoes and carrots. Shave them using a spiralizer or grate them. I use my food processor with a grater blade.
Squeeze excess water if there is any. Add a generous amount of salt and black pepper, stir.
Heat a skillet over high heat. Once the skillet is hot, add a generous amount of vegetable oil. Add the rösti mixture in an even layer. Flatten with a spatula. Press well to the bottom of the pan. Reduce the heat and fry on medium high until golden brown. This will take approximately 7-10 minutes.
Once desired color is achieved, flip over rosti onto a plate and add more oil to the skillet. Return the rösti to the pan (now put the uncooked side on the skillet). Fry for another 7-10 minutes.
Transfer to an oven dish. Put in the oven to finish cooking for approximately 10-12 minutes.