Planet-Friendly Bowl
This bowl is 100% plant-based and is very planet friendly. Use local seasonable vegetables if you aim for maximum sustainability. For instance, you can swap sweet potato for pumpkin and use locally grown mushrooms.
This recipe is extremely easy to make, and no cooking talent is required. It is easily digestible and is suitable as both lunch and dinner.
Fell free to add extra vegetables or any other ingredients that you like, make it personal!
Nutrition:
689 kcal
90.4 fat
21.5 carbs
30.5 protein
Ingredients
50 g wholegrain basmati rice or any other grain of choice
100 g fresh soybeans (either frozen or ready to eat)
1 medium sweet potato
200 g fresh spinach
100 g mushrooms of choice
1 tbsp + 1 tsp rapeseed oil or any other oil suitable for baking
1 tbsp hemp seeds
Juice of ¼ lemon
1 tsp agave syrup, honey, or any other liquid sweetener
2 tbsp water
Salt to taste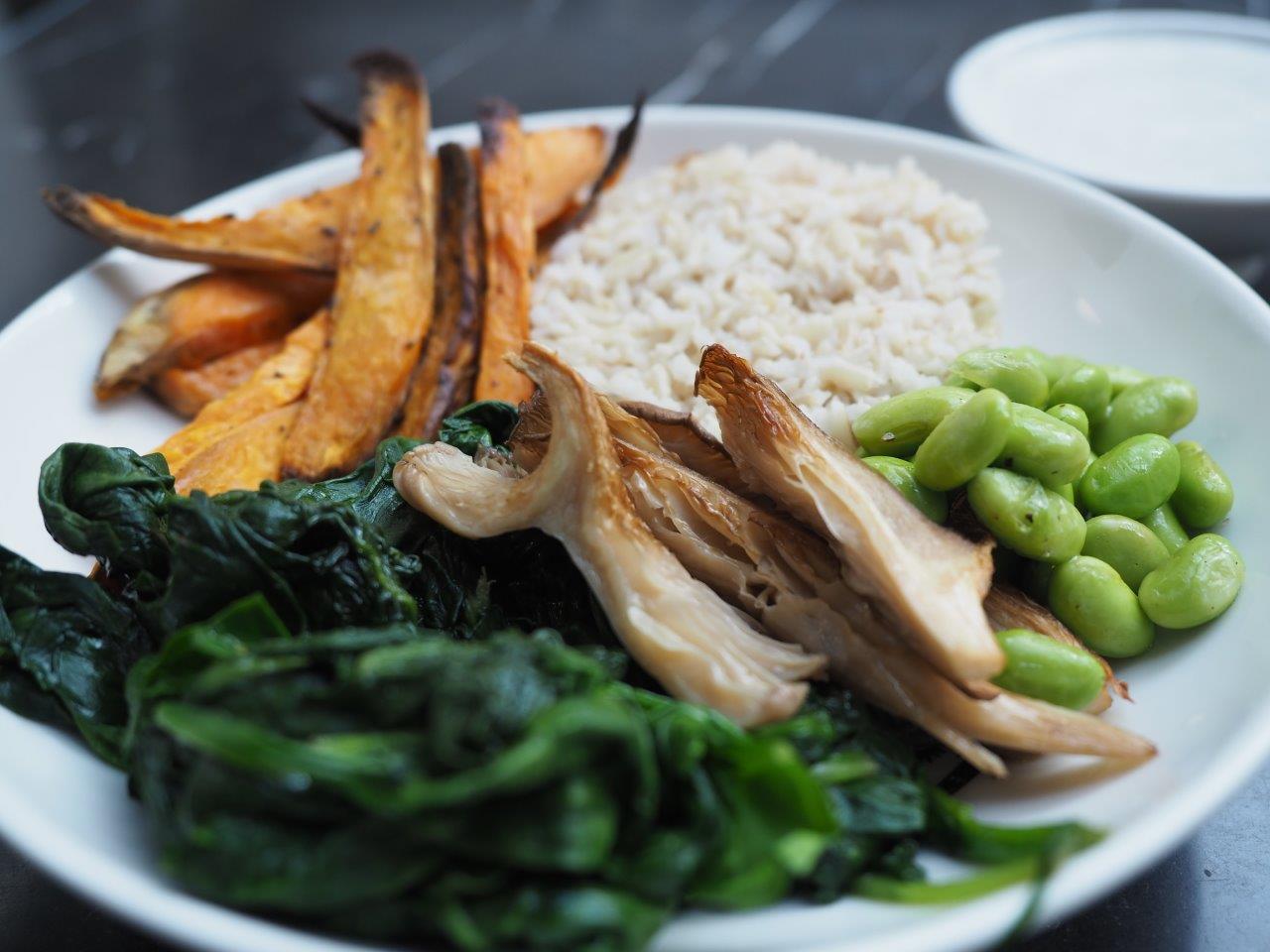 Method
Start with the sweet potatoes as they will take longest to cook. Preheat the oven to 180 degrees Celsius. Wash, peel and cut them in the shapes you prefer. Add a tablespoon of oil and salt, stir, and place in an oven-proof dish. Place the dish in the preheated oven for 45 minutes.
Next, cook rice (or you grain of choice) according to the instructions on the package. My wholegrain basmati rice is cooked in a double volume of water for 35 minutes.
Clean the mushrooms with a damp paper towel. Put in an oven-proof dish, drizzle with oil and salt, and place in the preheated oven for 20 minutes.
If soybeans are frozen, cook them in boiling water for 3 minutes. Salt to taste.
Heat a deep skillet over medium-high heat. Add one tsp of oil to the pan. When hot, add spinach and salt to taste. Reduce the heat to low and cook till spinach is wilted, approximately 2-3 minutes.
Make the hemp seed dressing by whisking all the ingredients. You can use a blender for this small amount of sauce you can also just do it with a spoon. The texture of the dressing will not be as smooth as when you use a blender, but it will still be a delicious add-on to your meal.
Arrange all the ingredients in a bowl, and serve the dressing on the side.