Gluten-free turmeric crackers
Today I share with you an easy recipe for healthy gluten free turmeric crackers.
These bright-yellow turmeric crackers go well with every topping imaginable, from hummus to cheese. But they are also delicious to just eat on their own.
Note: the dough is very sticky, so don't skip cooling and rolling it out between two pieces of parchment (baking paper). The thickness of the dough is also important. If it's too thick, you won't get a nice crunch. If it is too thin, you run the risk of burning the crackers in the oven. The optimum thickness is about 0.5 cm.
Nutrition:
30 kcal
2 g fat
2.4 g carbs
0.8 g protein
0.5 g fibre
Ingredients
20 g almond flour
40 g wholegrain rice flour
15 g hemp seeds
15 g sesame seeds
10 g linseed
¼ tsp turmeric powder
A mini pinch of salt
1 tablespoon grapeseed oil (or olive oil)
30-40ml water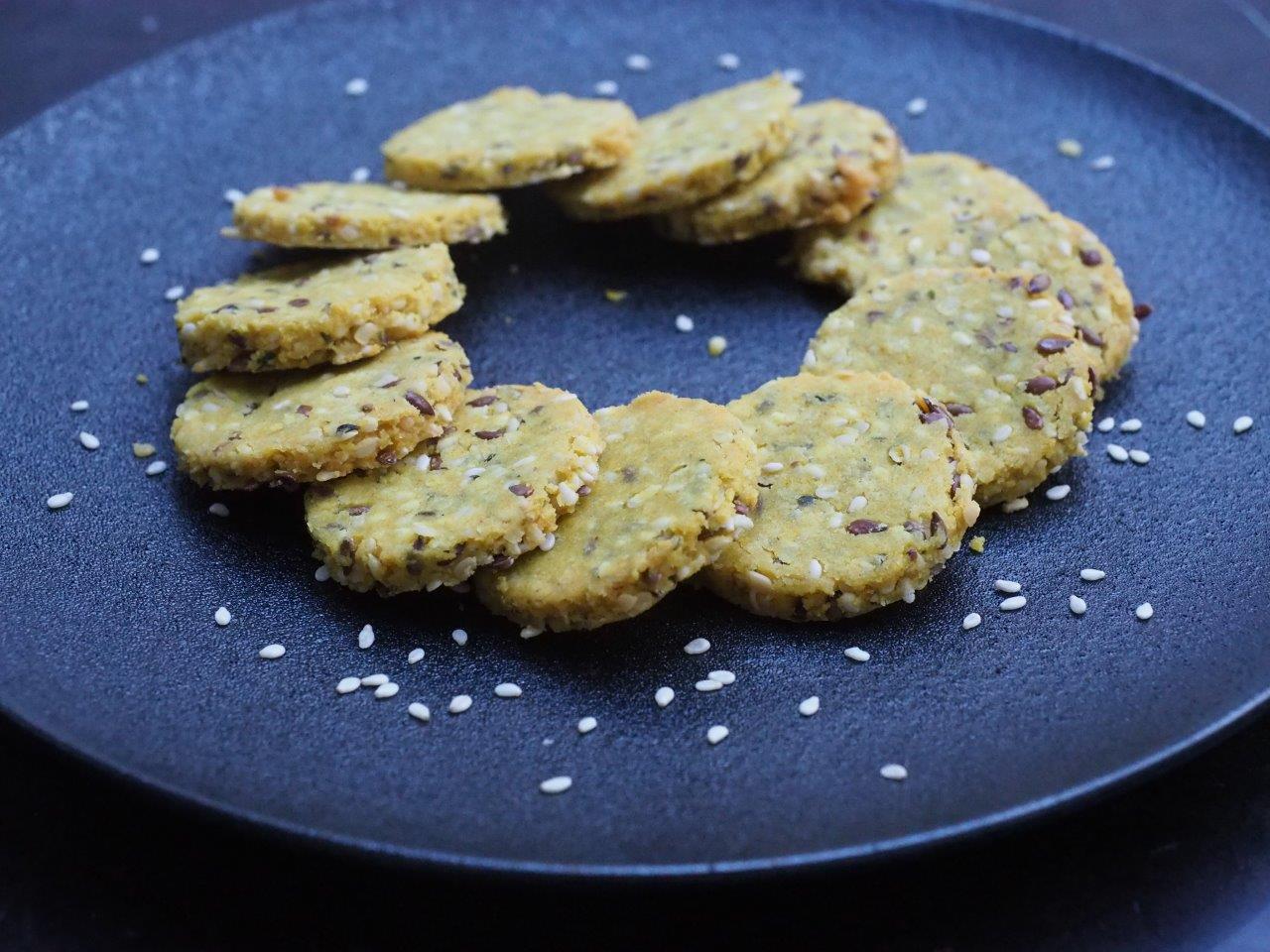 Method
Preheat the oven to 165 degrees.
Combine all dry ingredients in a mixing bowl. Add oil and 30 ml of water and mix with a tablespoon or a small spatula. Does the dough fall apart? Add a little more water and mix again.
Wrap the dough in plastic and let it cool in the fridge for an hour.
Roll the cooled dough between two pieces of parchment paper to a thickness of 0.5 cm. Cut into desired shapes with a pizza knife, or with a regular sharp knife, or using a cookie ring.
Place the crackers on a baking tray lined with baking paper. Bake in a preheated oven for 10-15 minutes. Baking time depends on the size of the crackers. When I see the edges starting to brown slightly, I turn the oven off and leave the crackers in the oven for another 2-3 minutes. Then I take them out.
Store the crackers in an airtight container for up to 5 days.