Coconut lentil dhal
This coconut lentil dhal is one of my family's favourite dinners. I cook it almost every week. It is very comforting, especially in cold winter days. I normally only add 1 dried chilli pepper as I have a 3-year-old eater at the table, but feel free to add more. If you do not have all the necessary spices and don't feel like buying them all, you can substitute with garam masala blend. I do, however, recommend buying powdered fenugreek as well, as it adds creaminess to the dhal. You can sub cauliflower with any other vegetables of your choice or serve the coconut lentil dhal with a simple side salad instead.
Nutrition:
535 kcal
11 g fat
85 g carbs
23 g protein
18 g fibre
Ingredients
200 g rice of your choice (jasmine, basmati, brown, red)
1 small cauliflower head
1 tbsp vegetable oil (or to taste)
150 g yellow or red lentils
100 g black lentils
1 tbsp coconut oil
1 yellow onion
3-4 garlic cloves (or to taste)
1 large carrot
Spices (1-2 dried small chili peppers, 1 tsp fenugreek powder and 1/4 tsp each: mustard seeds, fennel seeds, cumin seeds, cardamom, cloves, nutmeg, cinnamon)
400 ml light coconut milk
300 ml crushed tomatoes without skin
Salt to taste
Fresh cilantro to taste, chopped
Fresh lime (optional)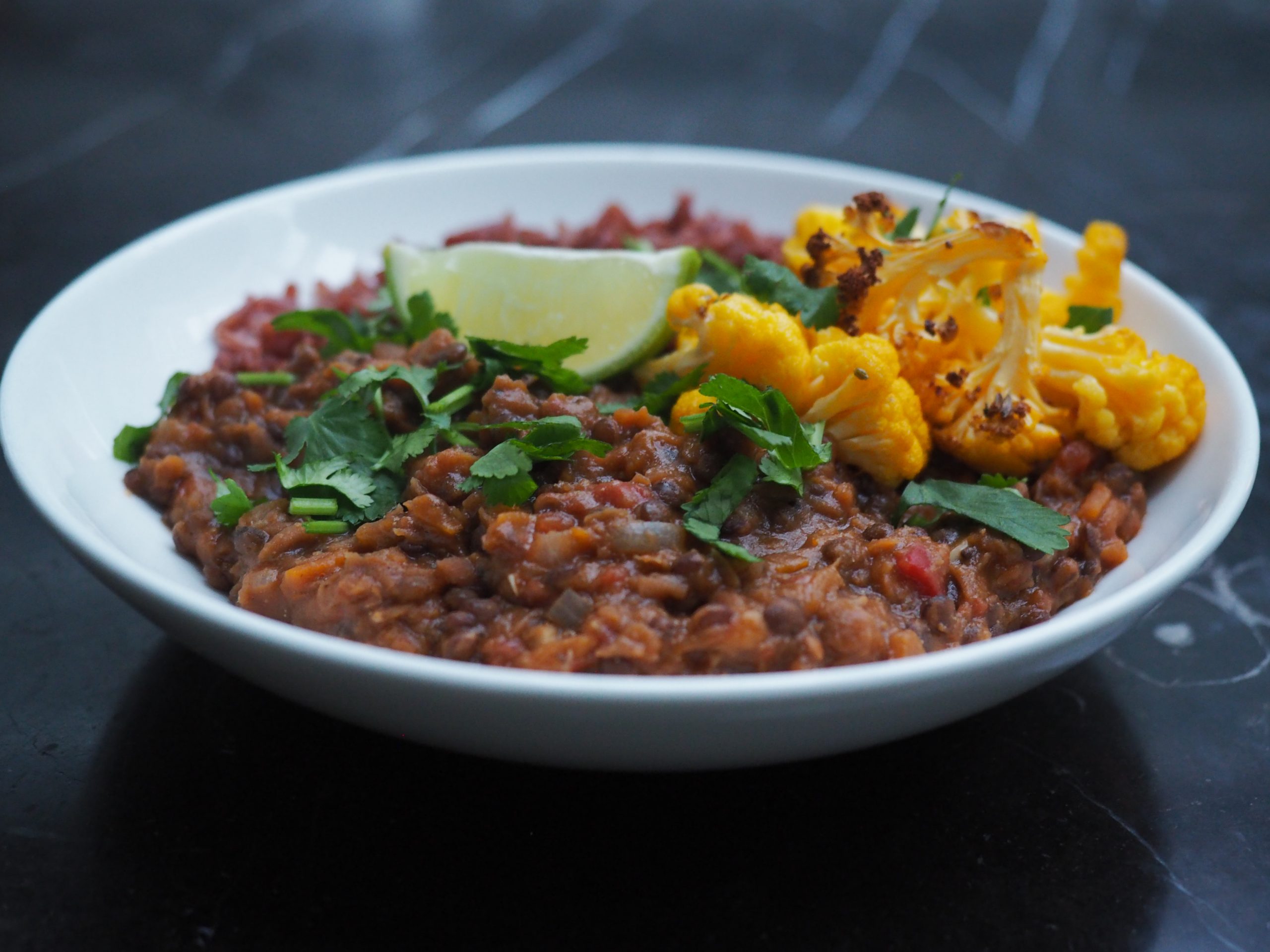 Method
Cook the rice of your choice according to the instructions. Personally, I love red whole-grain rice to go with this coconut lentil dhal.
Preheat oven to 180 degrees Celsius. Wash and dry the cauliflower. Divide into flowerets. Place in an oven-proof dish, drizzle with oil and add salt to taste. Place the dish in the preheated oven for approximately 30 minutes.
Rinse the lentils thoroughly under running water.
For the best results, crush the spices using the mortar and pestle just before cooking.
Chop the onion, crush the garlic and peel and grate or chop the carrot.
Heat coconut oil in a large saucepan and gently cook the onion, garlic and carrot for a few minutes.
Increase the heat and add all the spices. Cook for a minute stirring constantly.
Add the lentils, coconut milk and crushed tomatoes and bring to a boil.
Add salt (I add ½ tsp), cover the pan with a lid and cook on low heat for 45 minutes.
For the best taste, let stand on the kitchen stove for another 30 minutes before serving.
Serve the coconut lentil dhal with rice, baked cauliflower, chopped cilantro and a wedge of lime.