A healthier granola
Supermarket granola normally contains too much fat and sugar and is produced at very high temperatures, which greatly reduces its nutritional value. Making your own healthy (or at least healthier) granola at home is very easy. This healthier granola can be prepared in bulk and stored for at least a few weeks in a cool, dry place.
Barley in this recipe can be replaced by buckwheat, rice, rye, or any other rolled grains of your choice, or you can make granola only using oatmeal. If you're a fan of chocolate granola, add 2 (or to taste) tablespoons of pure cocoa powder before baking. I sometimes add chlorella powder, turmeric, or acai powder to the granola mix (before baking). I do not recommend adding dried fruits and berries to the granola before baking as they can easily burn in the oven. You can better add them when your granola is ready.
The provided nutrition breakdown is for one portion (3 heaped tablespoons of granola).
Nutrition:
158 kcal
10.5 g fat
12 g carbs
4.5 g protein
3 g fibre
Ingredients
1 cup rolled oats
1 cup rolled barley
1 cup of seeds and nuts of your choice, such as flaxseed, pumpkin seeds, sesame seeds, hemp seeds, sunflower seeds, Brazil nuts, cashew nuts, almonds, etc.
1/4 cup melted coconut oil
1/4 cup liquid sweetener such as agave or maple syrup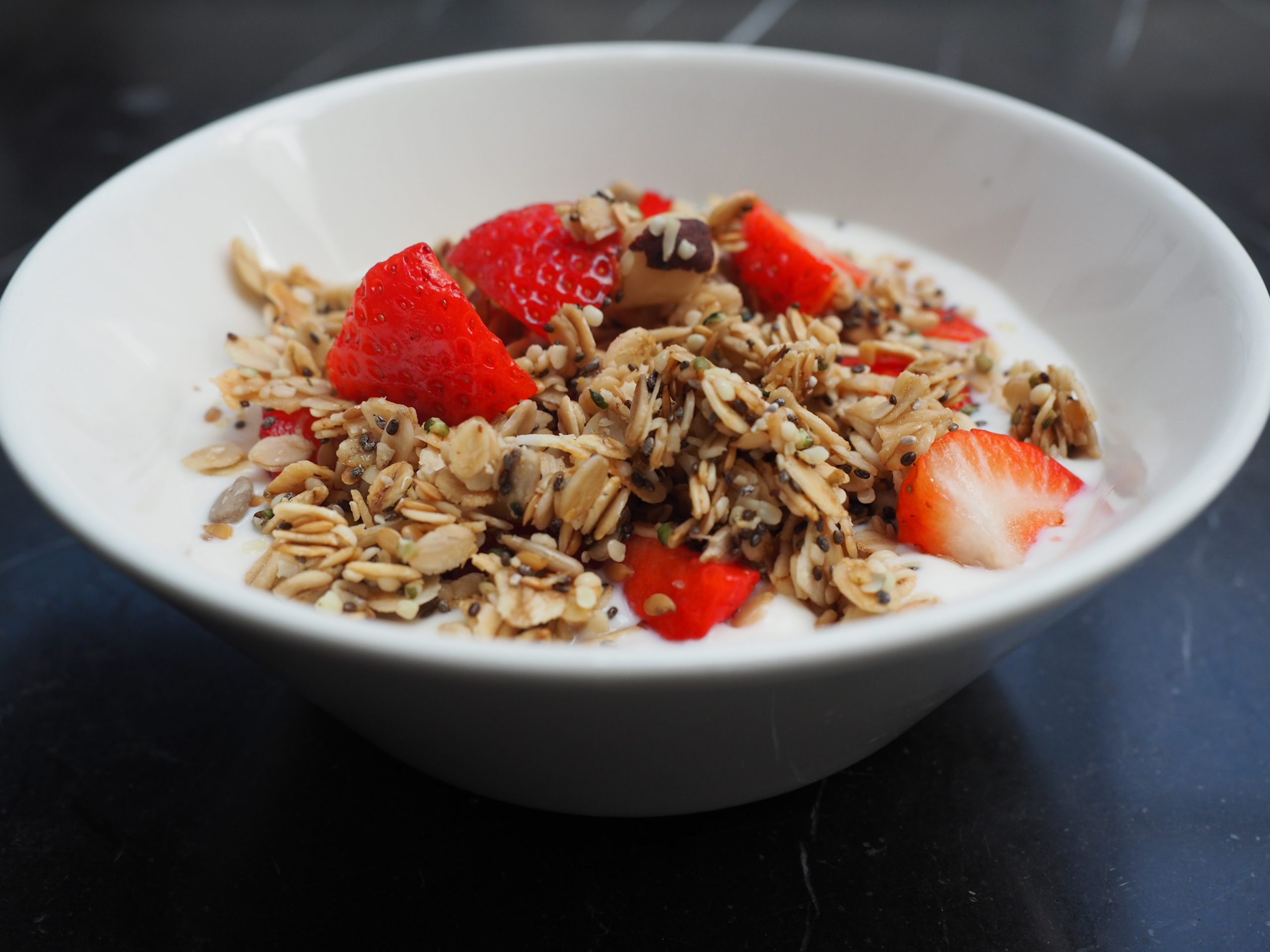 Method
Preheat oven to 100 degrees Celsius (convection mode).
Mix dry ingredients in one bowl. Mix liquid ingredients in another bowl.
Pour the liquid mix onto the dry ingredients, stir thoroughly.
Pour the mixture on a baking sheet covered with parchment. Flatten using a spatula or the back side of a tablespoon. Bake for approximately two hours. Allow to cool completely.
Crumble into pieces and store in a glass jar or in an airtight container.